Do you find yourself losing track of time on your phone and getting sidetracked from your important tasks? Don't worry, we've got you covered with the best time tracker app for iPhone! Think of it as your personal taskmaster, keeping you on track and focused on your goals. With the right time tracker app, you'll be able to prioritize your tasks efficiently and make the most of your time.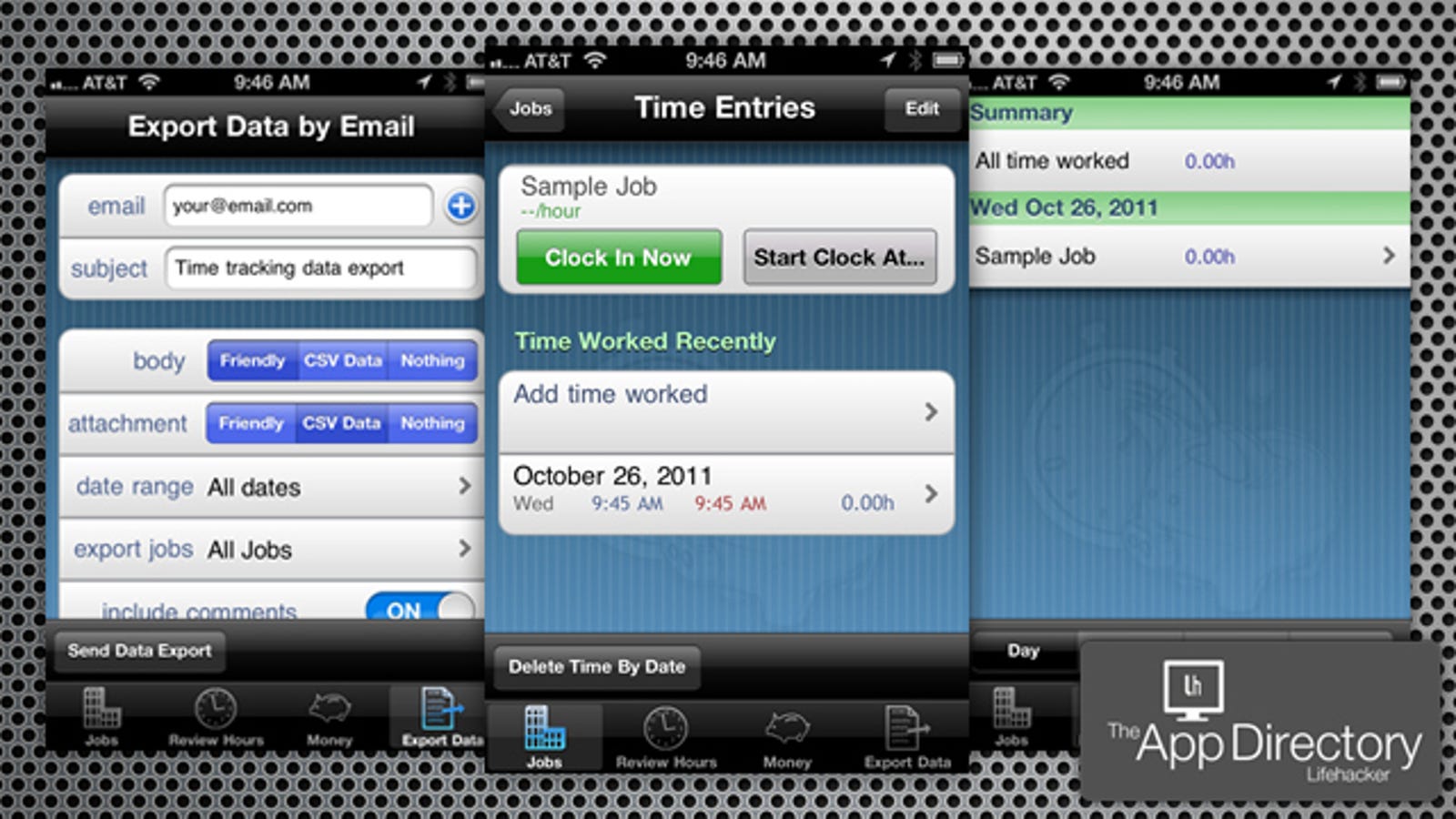 Source lifehacker.com
But what sets the best time tracker app for iPhone apart from the rest? It should be easy to use, visually appealing, and most importantly, accurate. Just like a compass that steers you in the right direction, a good time tracker app will guide you through your daily schedule. Perfect for both personal and professional use, you can make sure you stay on top of your daily workload and never lose track of what's important. So what are you waiting for? Download the best time tracker app for iPhone and make the most of your valuable time!
Top 3 Best Time Tracker Apps for iPhone
Time management is a crucial aspect of our busy lives. And, with advancement in technology, managing time has become easier and more efficient. Time tracker apps are designed to help you keep track of your time spent on tasks, projects, and activities. In this article, we have compiled a list of the top 3 best time tracker apps for iPhone that can help you stay productive and organized.
1. Toggl
Features

Benefits

– One-click time tracking
– Customizable tags and projects
– Reports and analytics
– Integrations with other apps

– Saves time and simplifies tracking
– Provides a unique system to organize tasks
– Analytical reports to identify productivity patterns
– Connects with other business apps to streamline activities
Toggl is a user-friendly time tracker app that offers one-click time tracking option. It allows you to track your time and analyze how much time you are spending on different tasks and projects. With customizable tags and projects, you can easily categorize and organize your work as per your preference. Additionally, Toggl offers detailed reports and analytics that gives you insights into your productivity patterns. This feature can help you identify areas you need to work on and improve efficiency. Toggl also seamlessly integrates with other apps such as Basecamp, Asana, and Trello that helps you streamline your workflow.
If you are a freelancer or a small business owner, Toggl is an excellent choice for you. Whether it's time tracking, invoicing or project management, Toggl can help you stay organized and help you be more productive in your business tasks.
2. RescueTime
Features

Benefits

– Automatic time tracking
– Monitor app and website usage
– Set goals and progress tracking
– Detailed reports and analytics

– Tracks time automatically, even if you forget to start the app
– Helps you identify productivity killers by analyzing app and website usage
– Helps you set goals and track progress
– Provides detailed reports and analytics to understand your performance
RescueTime is an automated time tracker app that tracks your time spent on apps and websites on your iPhone. It analyzes your usage patterns and provides detailed reports that help you understand your productivity and efficiency. RescueTime provides a set of goals that users can set for themselves to limit the time spent on particular non-productive apps and activities. RescueTime's progress tracking helps you understand how you're doing on these goals and what you need to do to improve your performance.
If you're looking for an app that automatically tracks your time, RescueTime is an excellent option as it requires minimal effort from your end. With a powerful algorithm that tracks your productivity and distractions, you can get an accurate measure of your overall performance.
3. HoursTracker
Features

Benefits

– Create custom pay periods
– Track time for multiple jobs simultaneously
– Export timesheets in various formats
– Adjustable rounding and break calculations

– Customizable pay periods for precise and accurate payment calculations
– Helps freelancers and contract employees keep track of different jobs and projects
– Easy to export timesheets for billing
– Precise rounding and break calculations for better accuracy
HoursTracker is a powerful time tracker app that can help freelancers and contract employees keep track of their time spent on different jobs and projects. It allows you to create custom pay periods, which means you can set exact timelines for invoicing and payroll. You can add multiple jobs to the app and also track time for them simultaneously. HoursTracker offers adjustable rounding and break calculations for more precise and accurate payment calculations.
One of the significant advantages of HoursTracker is its ability to export time sheets in various formats such as PDF, CSV, or HTML. It helps simplify payment calculations and eliminate manual entry of time data. If you are a freelancer who doesn't use a dedicated invoicing and payment tracking tool, HoursTracker is a great choice for you.
The Bottom Line
Choosing the right time tracker app depends on your specific requirements. The three time tracker apps mentioned above can help you enhance your productivity and take control of your time efficiently. Toggl's customizable tags and projects can help you categorize your tasks seamlessly. RescueTime's automated tracking is great for users who want to keep an eye on their productivity without manual effort. Finally, HoursTracker's adjustable pay periods and multi-tasking features are perfect for freelancers and contract employees. Whatever your needs are, these three time tracker apps for iPhone are essential tools to manage your time better and stay productive.
Soundhound Apps also offers a great time tracker app for iPhone users. You can easily track your time, set reminders, and analyze your data. Download the app now and start managing your time like a pro.
The Best Time Tracker App for iPhone
Are you tired of manually tracking your time and productivity? Do you want an easier way to manage your tasks and monitor how you use your time? Then a time tracker app may be the solution for you. With so many options available in the app store, it can be overwhelming to choose the best one for your needs. In this article, we will discuss the top time tracker apps for iPhone that you can consider.
Features to Look for in a Time Tracker App
Before diving into the best options, it's important to understand the essential features that you should look for in a time tracker app. Here are the most important features that you should consider.
Automatic tracking: The app should have the ability to automatically track the time you spend on your tasks, without you having to manually input them.
Customization options: The app should offer customizable options such as setting your own tags, projects, and categorization.
Reporting capabilities:The app should allow you to export reports in various formats and provide analytics on how you used your time.
These features should be able to offer you flexibility, accuracy, and convenience. Let's now evaluate the best time tracker apps for iPhone based on these features.
Top Time Tracker Apps for iPhone
| App Name | Automatic Tracking | Customization | Reporting | Pricing |
| --- | --- | --- | --- | --- |
| Toggl | Yes | Yes | Yes | Free or $9/month |
| RescueTime | Yes | No | Yes | Free or $6/month |
| Hours | Yes | Yes | Yes | Free or $7.99/month |
Toggl
Toggl is one of the most popular time tracking apps that provide an extensive range of features to its users. It offers automatic tracking, customization options, and analytical reporting features. With Toggl, you can track your time through the web or mobile app, making it easier for both personal and team use. It has a user-friendly interface, so even beginners can use it with ease. Users can also use Toggl Desktop, which syncs with the online version and tracks their time in the background.
The app offers an extensive range of tracking features, such as tags, categories, and notes, allowing you to precisely categorize your work. Toggl's Reports feature is impressive as well – you can export reports in various formats and get insights into where you are spending more time. The team management feature allows you to share your projects with your team members and analyze their productivity.
Toggl's basic version is free and provides the necessary features for tracking personal tasks. However, if you want more advanced features such as integrations with other tools and team management options, you can upgrade to the paid version, which costs $9/month.
RescueTime
If you are looking for a simple and automatic time tracking app, RescueTime could be the right choice for you. It tracks your time usage in the background and provides you with a detailed report of your daily routine. It offers data on how much time you spent on different apps, websites, and other activities, making it easier for you to understand your productivity patterns.
RescueTime also has an excellent feature of analyzing your computer activity, allowing you to understand how you are spending your time without necessarily inputting data manually. The app provides weekly reports, which can be handy in the monitoring of your work process and cybersecurity measures.
RescueTime can be used for free or with a premium plan that costs $6/month and unlocks its full customization features and coordination with other applications.
Hours
Hours time tracking app is exclusive for IOS users and offers an intuitive user interface to make time tracking efficient for you. Similar to Toggl and RescueTime, it has automatic tracking, offers customization options, and provides insights into your tasks through analytical reporting features.
The app interface is user-friendly and offers a new hours watch face for Apple Watch users. The app can keep track of your billable hours, making it a favorite among busy freelancers.
Hours provides daily, weekly, and monthly insights into your performance and offers integration options with popular apps such as Trello and Asana. Hours provides a free version with limited features, and the premium version costs $7.99/month.
Conclusion
The time tracker apps mentioned in this article offer extensive features that will make time tracking more comfortable and more manageable. Depending on your preference and productivity routine, you can choose either Toggl, RescueTime, or Hours. These apps offer automatic tracking, customization options, and reporting capabilities, which are the primary features to consider when choosing a time tracker app.
With these apps, you can take control of your time management and increase your productivity level by keeping track of how you use your time. Give them a try and see which app suits your productivity practices.
If you are looking for the best time tracker app iphone, Brilliant Apps has got you covered. With several features such as time tracking, automatic reminders, and detailed reports, you can effectively manage your time and increase your productivity.
Related Video: The Ultimate Time Tracking Apps for iPhone